We're located at:
6305 W. 6th Avenue, Lakewood, Colorado
Phone: 303-232-6272
Hours:
Mon-Thur: 6am-10pm
Friday: 6am-9pm
Saturday & Sunday: 7am-8pm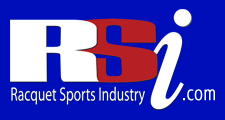 Awarded
" 2007 Private Facility of the Year"by Racquest Sports Industry Magazine
Click here to read the entire article
Please take a few minutes to Register on our Tennis Website!

Registered members of our website will receive emails about upcoming events and programs.
Important Tennis Links for Local Tennis Players


Meadow Creek is an accredited Tennis Welcome Center with the expertise and commitment to introduce you to tennis and fitness - no matter your age or previous experience. Please click here to learn about our introductory "Quickstart for Adults" programs

Meadow Creek is an accredited Cardio Tennis center where our teaching professionals can introduce you to a new fun way to get fit, have fun and make friends! Click here to learn more about our Cardio Tennis programs

Meadow Creek Tennis & Fitness Club is one of Denver Colorado's premier indoor tennis clubs and also one of the Lakewood area's nicest fitness clubs featuring:
7 heated indoor tennis courts

2 Platform tennis courts and outdoor lounge area with firepit

3 outdoor tennis courts courts

Tennis lessons and tennis instruction for adults and children

Full Service Pro Shop - Shoes, Bags, Racquets, Gift items

Complete fitness facilities

Well appointed locker rooms

2 comfortable lounges, 1 with indoor tennis viewing

Meadow Creek's 2016-17 Program Brochure
A brochure listing all of our programs

We provide our tennis members state of the art facilities with newly resurfaced outdoor tennis courts and 7 heated indoor tennis courts with the best lighting in the Denver area. We offer Junior, Young-Adult, Adult, Senior, Couple, and Family memberships.
For more information on memberships please call us at (303)232-6272 or press the contact us button on the bottom left to email us. Many of our programs are also open to non-members. Meadow Creek Tennis and Fitness Club is truly the premier indoor tennis club in the Denver area.
Our professional USPTA and PTR certified teaching staff offer tennis lessons to help players at any level improve and reach their goals in singles and doubles. Are you a beginner? Go to our learn to play page to find helpful information about our 6-week QuickStart tennis instruction program.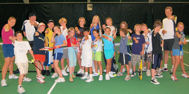 Junior Tennis Programs
Meadow Creek offers great children's tennis instruction. Our after school tennis lessons and Saturday tennis lessons are a great way to help your child improve their fitness, focus, and tennis skills.

Click on eCalendar for
Events and Programs