Meadow Creek's Monthly Newsletter

November 4:  Junior Session 3 Begins

November 24:  Free Guest Day

November 27:  Pilgrim Super Drill

November 28:  Club Closed for Thanksgiving

November 30:  PCT Letters of Commitment Due for Session 2

December 15:  3-Ball Mania is Back!

December 18:  Reindeer Games Super Drill
---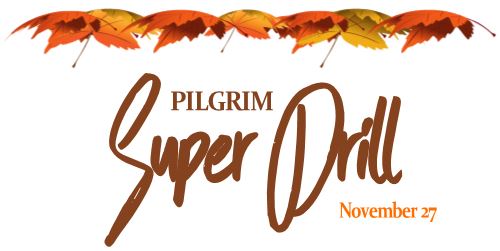 Our annual Pilgrim Super Drill is Wednesday, November 27th at 6pm
What a great opportunity to give thanks for many things, among them the opportunity to play tennis with your friends at Meadow Creek! Space is limited, so reserve your spot today by calling 303.232.6272
$30/Members;  $38/Non-Members (Includes two hours of drills, snacks, beverages and holiday giveaways)
See you on the 27th!

---
The legend continues ... 3 Ball Mania is back for another shot at greatness and you won't want to miss the bloody fun that will be had on Sunday, December 15th! 

Compete in teams of 2 playing doubles for all events. 3 divisions: Competitive, Recreational and Junior.

Click here for more details on this screwball event!
---
Our Q4 FREE Membership Promotion is going on right now.  Here is your opportunity to get your Meadow Creek Tennis & Fitness Club membership for FREE! Between now and December 31st if you refer a friend to Meadow Creek and they become a new member, you receive one month's dues for free. Refer 1 person, get 1 month free. Refer 6 people and get 6 months free. Refer 12 people and get one entire year of your Club dues for free! You get the drill - there is no limit to how many friends you can refer. What better way to play tennis with the people you love than to get them to join the club you love?

Contact the Front Desk for details surrounding this special promotion. Don't forget, Free Guest Day is Sunday November 24. It's a great time to bring your friend to Meadow Creek to check out your club!
---

It's not too late to join an In-House League! We offer both singles and doubles leagues at a variety of levels and days. Click here for a detailed flyer of all our In-House Leagues available.

---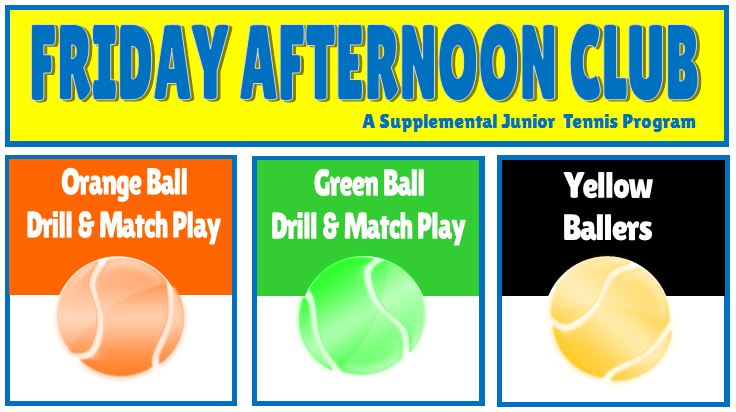 We are ramping-up our Friday Afternoon Club for Juniors! FAC is intended to give your player the opportunity to put to the test what they have been learning in their weekly classes. Orange Ball Drill & Play and Green Ball Drill & Play are 2 hours on court (1 hour drills/1 hour supervised match play.) For these programs, you must register for a minimum of 2 weeks for any session.

Next Session: November 15-December 13

Yellow Ballers is a weekly drop-in class. This high-intensity class involves drills, games and supervised point-play scenarios. Open to both Yellow Ball and Elite Yellow Ball players.
All classes are $18/class members; $28/class non-members
Click here for details about our FAC
---
Boys High School Tennis completed their season on October 19th. Hats off to our Junior players for putting forth some great performances! Click here for a few pictures and a listing of how our Meadow Creek Juniors did.

D'Evelyn's 4A team may not have won the State title but they do have something extra special to be proud of, and they can pretty much thank sophomore Carter Smith for that. D'Evelyn won the Vicky Matarrazo Sportsmanship Award voted on by the spectators and players. While playing in his semi-final round, Smith was in a first set tiebreaker. On set-point, an official ruled a call in favor of Smith. Smith informed the official that the call was not correct, thus awarding his opponent the set. Smith ultimately lost that match, and his opponent went on to win the State title. Hats off to Carter for reminding us that while championships may be earned, honesty and integrity is the most valuable asset for a person to possess. Nicely done, Mr. Smith!
---

Guys, are you looking for some fun, competitive doubles over the lunch hour? If so, our Men's Day might be just what you are looking for! Join us every Wednesday from 11am-1pm for an invigorating way to break up your work week. Level 3.5-4.0. Participants will be grouped by level. Registration is weekly so no long-term commitment. $20/day members; $28/day non-members. Call 303.232.6272 to register.
---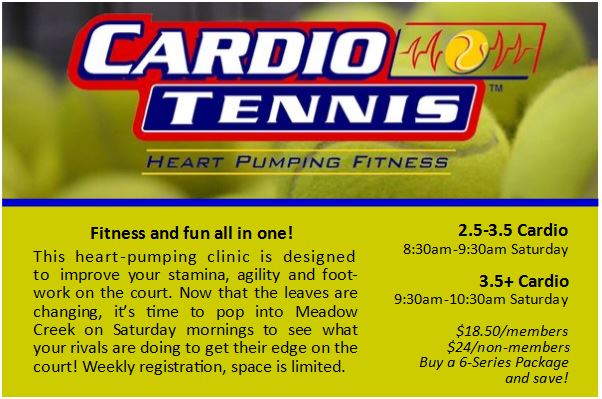 ---
Want to see our entire line-up of Adult programs? Click here to see our Adult Program Brochure for the 2019-20 season: 

---

Session 3 starts November 4 and runs until December 28
Click here to see all our Junior Programs for 2019-20

---
Pickleball Drop-In Times:

Tuesday > 10am-1pm

Wednesday > 7am-10am

Sunday > 5pm-8pm

Free for MC Members; $6/non-members; $5/SilverSneakers

---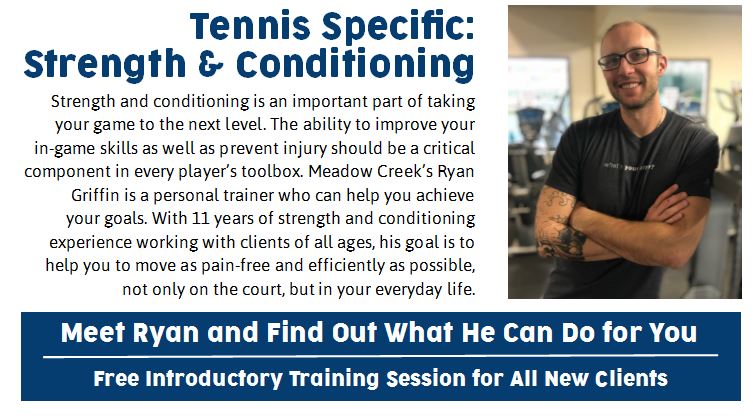 ---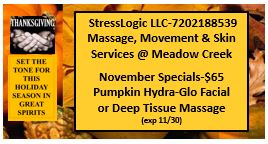 ---

6305 West 6th Avenue, Lakewood, CO 80214
303.232.6272    www.MeadowCreekTennis.com