Tennis News and Meadow Creek's Monthly Newsletter
What's happening at Meadow Creek Tennis & Fitness Club this Month?
Important Dates:

Session 3 In-House Leagues Start: January 6th

Session 2 Ladies Interclub Starts: January 7th

Junior Session 4 starts: January 7th

Session 2 Senior Breakfast Club Starts: January 8th

JTT BASH!: January 12th

Girls High School Bootcamp Begins: January 13th

Free Guest Day: January 20th

Family Social Night: January 25th

Club Championship & Member Appreciation Weekend: February 9th-10th

Valentine's Social: February 15th

February Fling Pickleball Tournament: February 15th-17th

Junior Open Championship Tournament: February 28th-March 6th
---
Are you ready to up the ante in your game to be ready for the start of leagues? Here at Meadow Creek, we are "All In!"

Our New Spring Ace-It clinic is not here to trump our Fall Fix-It program, but rather follow suit (and we aren't bluffing!) We will customize your clinic to fit your needs. Looking for strategies to deal with the chronic poacher? Are your overheads a bit too wild? Does your doubles strategy get trumped easily? Do you just want to hit a ton of balls to get ready for leagues? Our Spring Ace-It clinic has the answer to these problems, and more! Clinic runs for 6 weeks, 90 minutes/week. Starts March 10th and runs until the start of Leagues. Click here for more info on this ace-in-the-hole clinic!
---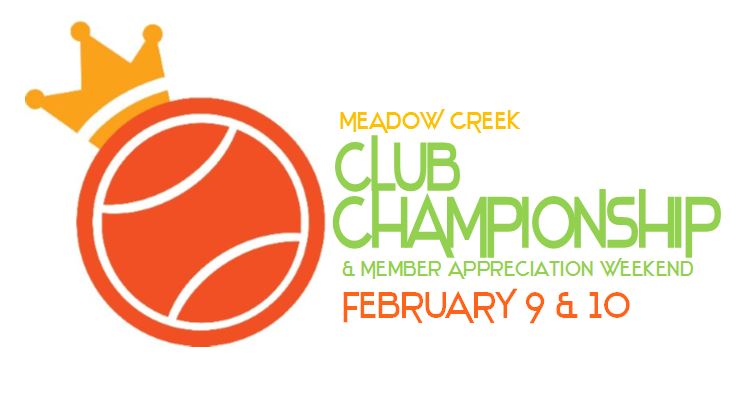 This weekend is for You - our cherished members of Meadow Creek Tennis & Fitness Club!

There will be parties, prizes, and priceless fun all weekend long! Pick your partner, clear your calendar, and ready your game for this "Member only" event. Bragging rights are on the line for 2019! You don't have to play in the tournament to enjoy all the festivities. Drop by anytime during the weekend to enjoy party and cheer on your fellow Meadow Creek Members!

Click here for more detailed on this chock-full weekend full of fun!
---
---
Did you play on a Meadow Creek JTT team last Summer?


Are you considering playing on a JTT team this Summer?

If so, join us for our JTT 2019 BASH! on January 12th from 6:30pm-8:30pm

Meet our staff, check out our facility, grab some grub and play tennis!

Click here for more information on our JTT 2019 BASH!
---
---
Session 2 of our Ladies Interclub starts January 7th. Don't miss the opportunity to play with ladies from all over the Denver metro area!


2 hours of specific NTRP level doubles


Sign up for 1 month at a time, no long-term commitment required

Sign up individually or with a partner

All matches played indoors

Cookies when you are done - what more can you ask for?

See our Ladies Page for registration forms. Registration is monthly, and you can email it back to Radka Lacjak at rlacjak@meadowcreektennis.com or fax it to 303.232.0150.

Session 3 of our In-House Leagues also kick-off on January 6th. Click here for our In-House League Flyer. Contact Radka if you want to play!
Junior News:

Session 4 starts January 7th and there is still time to register!


It's never too early to start thinking about your Summer JTT plans! Join us on January 12th for our 2019 JTT BASH! starting at 6:30pm. Click here for more info.

Click here for our 2018-2019 Junior Program Brochure. This brochure includes information about all of our after-school and weekend lessons, as well as drop-in programs.

---
Friday/Saturday/Sunday


February 15-17

Men's & Women's Doubles Divisions (3.0-4.5)

Mixed Doubles Divisions (3.0-4.5)

Click here for more info and registration form
---