Meadow Creek's Monthly Newsletter
---

October 2:  First Day of Men's Day


October 6:  Fall Fix-It Begins

October 6:  Drop-In Pickleball is Back for the Season!


October 11:  Friday Afternoon Club for Juniors Begins

October 25:  Monster Smash Social

October 26:  Free Guest Day
---
Our popular Q4 FREE Membership Promotion is back! Here is your opportunity to get your Meadow Creek Tennis & Fitness Club membership for free. Between now and December 31st if you refer a friend to Meadow Creek and they become a new member, you receive one month's dues for free. Refer 1 person, get 1 month free. Refer 6 people and get 6 months free. Refer 12 people and get one entire year of your Club dues for free! You get the drill - there is no limit to how many friends you can refer. What better way to play tennis with the people you love than to get them to join the club you love?

Visit us for details surrounding this special promotion. Don't forget, Free Guest Day is Saturday, October 26th. It's a great time to bring your pal to Meadow Creek to check out your club!
---

Our In-House leagues are ramping up,and we have room for you! We offer both singles and doubles leagues at a variety of levels and days. Click here for a detailed flyer of all our In-House Leagues available.

---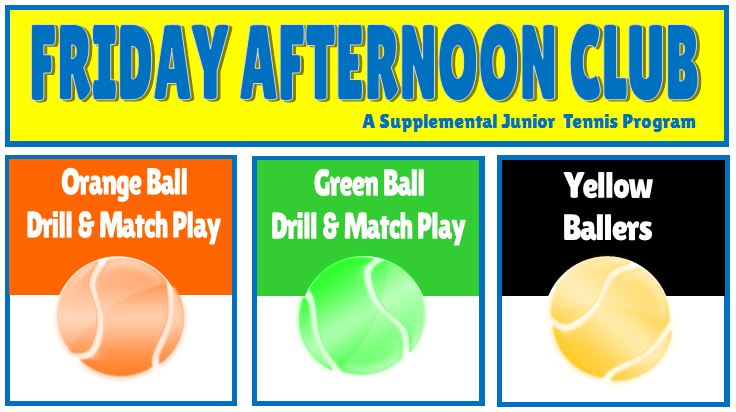 We are excited to announce a our new "Friday Afternoon Club" just for our Junior players! FAC is intended to give your player the opportunity to put to the test what they have been learning in their weekly classes. Orange Ball Drill & Play and Green Ball Drill & Play are 2 hours on court (1 hour drills/1 hour supervised match play.) For these programs, you must register for a minimum of 2 weeks for any session.

Next Session: October 11-November 8
Yellow Ballers is a weekly drop-in class. This high-intensity class involves drills, games and supervised point-play scenarios. Open to both Yellow Ball and Elite Yellow Ball players.
All classes are $18/class members; $28/class non-members
---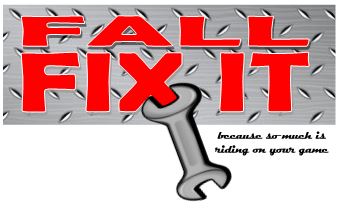 Our Fall Fix-It is starting next week amd we still have a few spots for your group of 4. Don't have  a group? Radka has a few groups that are looking for players. Contact her at rlacjak@meadowcreektennis.com. This is a great way to get your game back on the road after the long summer season. Click here for our Fall Fix-It flyer with all the details. 
---
---

Guys, are you looking for some fun, competitive doubles over the lunch hour? If so, our Men's Day might be just what you are looking for! Join us every Wednesday from 11am-1pm for an invigorating way to break up your work week. Level 3.5-4.0. Participants will be grouped by level. Registration is weekly so no long-term commitment. $20/day members; $28/day non-members. Call 303.232.6272 to register.
---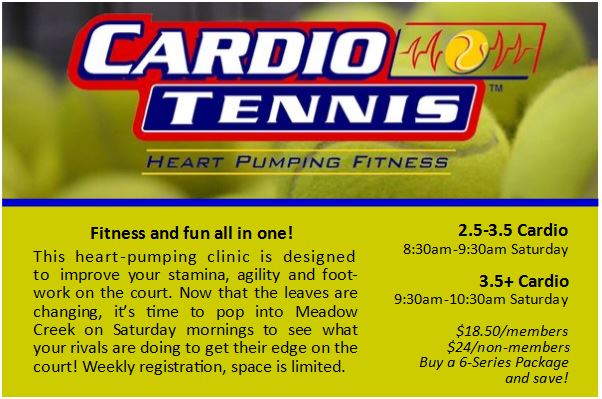 ---
Wondering what happens at Meadow Creek all season? Click here to see our Adult Program Brochure for the 2019-20 season: 

---

Save $20 and register by October 28 for Junior Session 3! Session 3 runs from November 4-December 28. Click here for our 2019-20 Junior Program Brochure

---
2019-20 Pickleball Drop-In Times:

Tuesday: 10am-1pm

Wednesday: 7am-10am

Sunday: 5pm-8pm

Free for MC Members; $6/play non-members; $5/play SilverSneakers

---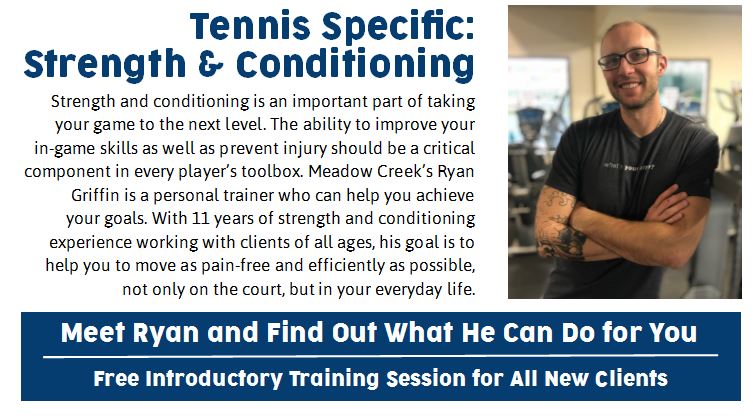 ---

6305 West 6th Avenue, Lakewood, CO 80214
303.232.6272    www.MeadowCreekTennis.com
---