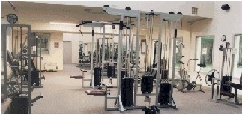 Meadow Creek has a full fitness facility with numerous amenities including cardio equipment, free weights, aerobics/yoga studio, whirlpools, men's sauna. Our facility is designed for the comfort and enjoyment of people of all ages, fitness levels and abilities.
Fitness Programs at Meadow Creek!
Meadow Creek is excited to announce that we have partnered with Troy Johnson to provide personal fitness training at Meadow Creek. In addition to being available for personal one on one training, Troy is offering a couple of group fitness classes specifically tailored to kids and adults. The two Junior classes are divided by age group. The Junior Elite class is for 8-14 year olds and the Elite class is for 15-20 year olds. He will be working on tennis-specific strength and agility movements in both classes. Please see descriptions below for more details on all the classes offered. Please check out his website: www.troyjohnsonfitness.com

I have been a Fitness Professional since 2006. I enjoy helping individuals from all walks of life achieve their health and fitness goals and have invested over 7000 hours in sessions with clients. I chose to become a Fitness Professional in order to serve others with my gifts, talents and knowledge; as well as to educate men and women of all ages, about health and fitness, no matter what level they start with or background they come from.
I graduated from Colorado Christian University (CCU) with a Bachelor degree in Exercise and Sport Science. I hold 3 nationally recognized and accredited certifications. I've always enjoyed sports and fitness, playing 5 sports in high school (baseball, basketball, soccer, track, and football), achieving 10 varsity letters in four of them. I also played basketball and soccer at the Division II level in college at Seattle Pacific University (SPU) and CCU. I was among the nation's top 15 leaders in assists for basketball. In soccer I was selected for the RMAC (Rocky Mountain Athletic Conference) All Conference Team. Out of college I began my career at 24 Hour Fitness and worked my way up the personal training corporate ladder to the "Master Trainer" level, servicing over 2,000 sessions.
In 2009 I decided to pursue my own practice to apply my philosophies and ideals toward my clients, and they are having tremendous success. Running my own business has given me the freedom to accomplish more than I could ever do in a corporate setting. Due to the staggering number of clients a trainer can see at a corporate gym, investing into a client's life in a positive and caring way is something of a lost art today.
Bachelor of Science in Exercise and Sport Science
CPR and First Aid Certified
NASM (National Academy of Sports Medicine)
NASM (Sports Performance Specialist)
ISSA (International Sports Sciences Association)
Personal Training | Weight Management |
Posture Correction | Nutritional Counseling |
Sport Specific Training |
www.troyjohnsonfitness.com