Men's Lessons, Drills, Leagues and Mixers
Click here for our 2019-20 Adult Program Brochure with all our activities from September thru May
.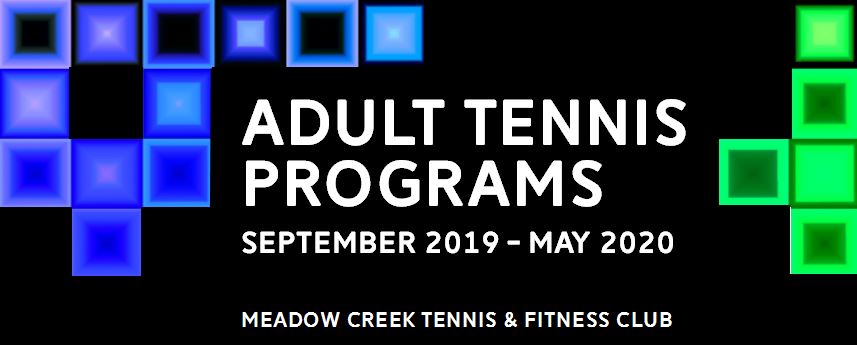 .
.
.
Senior Breakfast League
Our first 15 week session of Senior Breakfast League will begin September 10th. Click here for a Fall 2019 Registration form. 

Men's Day
Wednesday is Men's Day at Meadow Creek! Guys, join us mid-week for some fun daytime doubles to help you relieve the stress of work. Level 3.5-4.0. Participants will be grouped by level. Wednesdays 11am-1pm. We will resume Men's day in September.

Men's In-House Leagues
Our Men's In-House League will be back in session this September. Check back for all the leagues we offer for the guys. Members are guaranteed participation before Non-Members are allowed to register. Spots for Non-Members will will open 2 weeks prior to the Session start date. We run three 6-8 week sessions from September-February. Click here for our 2019-20 In-House League Flyer.

Cardio Tennis (All Year-Round)

 

 
Cardio Tennis is a group activity for adults that combines tennis with a fun, high-energy cardiovascular workout, all taking place on the tennis court. This class will get your heart rate pumping, burn calories, improve your fitness...and improve your game. These classes are now 1 hour long. Challenge yourself! Participate in 2 Cardio classes back-to-back, or do a Member Only Drill and a Cardio class on the same day!

Cost: $18.50/members, $24/non-members 
(Buy a 6-Series Package and SAVE! Cost: $99.90/members, $129.60/non-members)

Class Times:   Saturdays 2.5-3.5 8:30am-9:30am    •   Saturdays 3.5+ 9:30am-10:30am
Big Dogs
Join us on Monday evenings for our Big Dogs League for players 5.0+. We will resume Big Dogs in October.
Silver Beards
For many years, the Silver Beards have graced Meadow Creek with their friendly attitude and regular tennis play. The Silver Beards group of Senior tennis members play on Friday mornings. We would love to hear from you if you are interested in joining the fun! Please contact Jon McKenzie if you are interested in participating at 303.979.7966 or McKlock@aol.com
Fall Fix-It Clinic
Our Fall Fix-It Clinic will be back in October! This 4 week clinic is designed to fix what is broken in your game after the long outdoor season. Check back for more details regarding our Fall Fix-It Clinic.