Men's Lessons, Drills, Leagues and Mixers

Click here to see what's happening this Summer at Meadow Creek. We have programs for both members and non-members. Member Only Drills, Drill & Plays and Saturday Cardio. Come join us!
---
Men's In-House Leagues  We offer 4 Sessions of doubles or singles leagues for Men. Sessions are 3-7 weeks long, depending on the league. Members are guaranteed participation before Non-Members. Spots for Non-Members will open up 2 weeks prior to the Session start date. 
Our In-House Leagues will resume in September. Please email Patty at pknapp@meadowcreektennis.com if you want any information regarding or In-House Leagues. 
---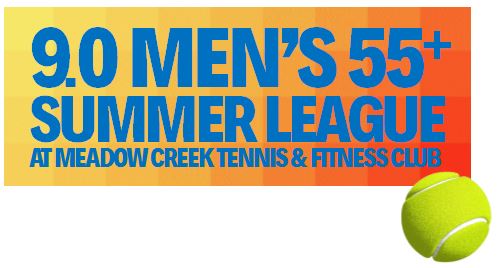 Our 9.0 Men's 55+ League is back this year! Compete against teams from across the Denver Metro area. Click here for all the details. Registration deadline is April 23. 
---
Men's Day  Wednesday is Men's Day at Meadow Creek! Guys, join us mid-week for some fun daytime doubles to help you relieve the stress of work. Level 3.5-4.0. Participants will be grouped by level. Wednesdays 11am-1pm. Call us at 303.232.6272 or email info@meadowcreektennis.com to register.  

Our Men's Day will resume in September. Check back for more details. 
---

Cardio Tennis (year-round)  Cardio Tennis is a group activity for adults that combines tennis with a fun, high-energy cardiovascular workout, all taking place on the tennis court. This class will get your heart rate pumping, burn calories, improve your fitness ... and improve your overall game! Classes are one hour. 

Cost: $18.50/members, $24/non-members (Buy a 6-series package and SAVE! Cost: $99.90/members, $129.60/non-members)
Saturday Class Times:
11am-12pm level 2.5-3.5

12pm-1pm level 3.5+
Classes are open to both members and non-members
Reservations are required. Call 303.232.6272 to register.
---
---
Silver Beards  For many years, the Silver Beards have graced Meadow Creek with their friendly attitude and regular tennis play. The Silver Beards group of Senior tennis members play on Friday mornings. We would love to hear from you if you are interested in joining the fun! Please contact Jon McKenzie if you are interested in participating at 303.979.7966 or McKlock@aol.com
.

Click here for our monthly Adult Calendar