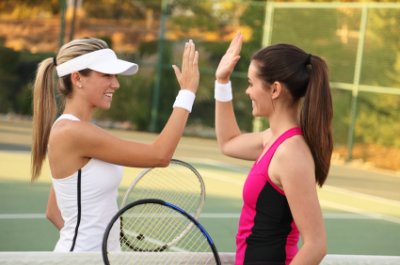 Meadow Creek's Ladies Daytime Doubles Interclub.
Ladies' Daytime Interclub Doubles at Meadow Creek consists of
2 hours of specific NTRP level ladies' daytime doubles against ladies from all over the Denver metro area.

Please join us for the most popular league in Denver.  Same format as last year with all the same great ladies, competition, and of course the famous Meadow Creek cookies.
Sign up for 1 month at a time – no long term commitment required.

Participants may sign up for individual dates each month. Priority will be given to those who commit to the entire month.

Availability for the following month must be received by the

20th of the prior month

.

Players are responsible for finding their own sub. Sub lsits will be provided.


Sign up individually or with a partner.



Cost is $16/members, $22/non-members (along with a $30 registration fee per 4 month session for non-members)
Please download the appropriate form below and return it by email at rlacjak
@meadowcreektennis.com
,  fax 303-232-0150 or mail to the Club (6305 West 6th Avenue, Lakewood, CO 80214).  We look forward to having you here!
  Session 1 Fall 2018 forms available now! Click on your level to download a form.  Must play at published NTRP level.
Level
Day/Time

2.5

Fridays 11:00am-1:00pm

3.0

Fridays 9-11

am

,

11-1pm


3.5

Mondays 1:00-3:00pm

4.0

Tuesdays 1:00-3:00pm

4.5

Thursdays 9:00-11:00am
Senior Breakfast League: Our first 15 week session of Senior Breakfast League will begin September 11th. Click here for a Registration form and they are also  available at Meadow Creek. Deadline to sign up for Session 1 is September 4th.
Click here for our 2018-2019 In-House League Flyer
To register for any of our In-House Leagues, please call the Front Desk at 303.232.6272 or email rlacjak@meadowcreektennis.com

~ Members are guaranteed participation before non-members are allowed to register.
prices based on a 4 week session, shorter/longer sessions will be priced accordingly

prices based on a 4 week session, shorter/longer sessions will be pri