Learn to play tennis....fast!
Meadow Creek Tennis & Fitness Club in Denver, Colorado is a certified Tennis Welcome Center with USPTA and PTR certified tennis teaching professionals who are committed to help you learn tennis in an enjoyable setting! Learn to play tennis fast on our indoor tennis courts, year-round. Club membership privileges are extended to all first time program participants. Players will receive an official NTRP rating.
BEGINNER QUICKSTART FOR ADULTS (QS*):
Saturdays 9:30-10:30am or Thursdays 6-7:00pm (6 weeks)
For the beginning tennis player with little or no tennis playing experience. Instruction focus is on stroke production, footwork, and court movements. Designed for the beginning player. Includes free use of demo racquets.
Cost: $80*/members, $108*/non-members.
INTERMEDIATE QUICKSTART FOR ADULTS (I.Q*):
Intermediate-Beginner Tennis Lessons
Saturdays 10:30-11:30am or Thursdays 7-8:00pm (6 weeks)
For the player who has the basic skills to rally from the baseline, approach the net, and negotiate the court in singles or doubles. Continued emphasis on strokes and footwork with more match play & competitive strategy.
Cost:$93/members, $132/non-members.
ADVANCED QUICKSTART FOR ADULTS (A.Q*):
Advanced-Beginner Tennis Lessons
Saturdays 11:30-12:30pm or Thursdays 8-9:00pm (6 weeks)
For the player who has taken the initiative to practice on their own and wants more continued emphasis on service and service return, match play and singles and doubles strategy.
Cost: $93/members, $132/non-members.
Proper court shoes "with non-marking soles" are required for all Quickstart programs. If you don't have proper shoes, our pro shop carries a wide selection of court shoes to choose from.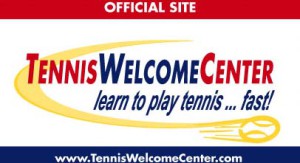 Meadow Creek Tennis as seen on the Tennis Welcome Center official site -click here