Looking for a place to play PICKLEBALL?
PLAY AT MEADOW CREEK
Drop-in Times at Meadow Creek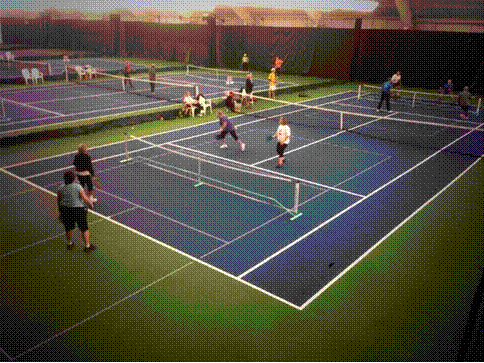 Tuesdays: 10:00am to 1:00pm
Wednesdays: 1:00 to 3:30pm
Sundays: 4:00 to 7:00pm
Cost per drop-in time:
Free for Meadow Creek club members!
Non-members: $6.00
SilverSneakers: $5.00
Upcoming Tournament:



February Fling Doubles Tournament, February 17-18
Meadow Creek Tennis Club is proud to host its first indoors pickleball tournament, the February Fling Doubles Tournament on February 17th and 18th. We are playing the tournament indoors on 6 courts with the outdoor Dura 40 ball.

This indoor tournament is unique because our indoor pickleball courts have an outdoor hard-court surface which is similar to the outdoor courts at 82nd and Simms St. This means that at Meadow Creek we have the luxury of playing outdoor pickleball in an indoor tennis facilty during the winter with great lighting and no wind!

The men's and women's doubles events are on Saturday and the Mixed doubles event are on Sunday. Tournament registration is $25 per person to play one event, and an additional $10 to play a second event. This is a skill level tournament with brackets between 2.5 and 4.5, with medals for 1st, 2nd and 3rd places in each bracket. Note, some brackets may be combined if not enough teams sign up. The deadline to register is February 10.

Contact: Graham Mustoe the tournament director for general questions at 303-523-0777 or gmustoe@gmail.com and Jaime Stokes for registration questions at 303-232-6272, or jstokes@meadowcreektennis.com

CLICK HERE for a registration form
Register by email: jstokes@meadowcreektennis.com, fax: 303-232-0150, or drop-off your registration form at Meadow Creek Tennis Club, 6305 W. 6th Avenue, Lakewood, Colorado.